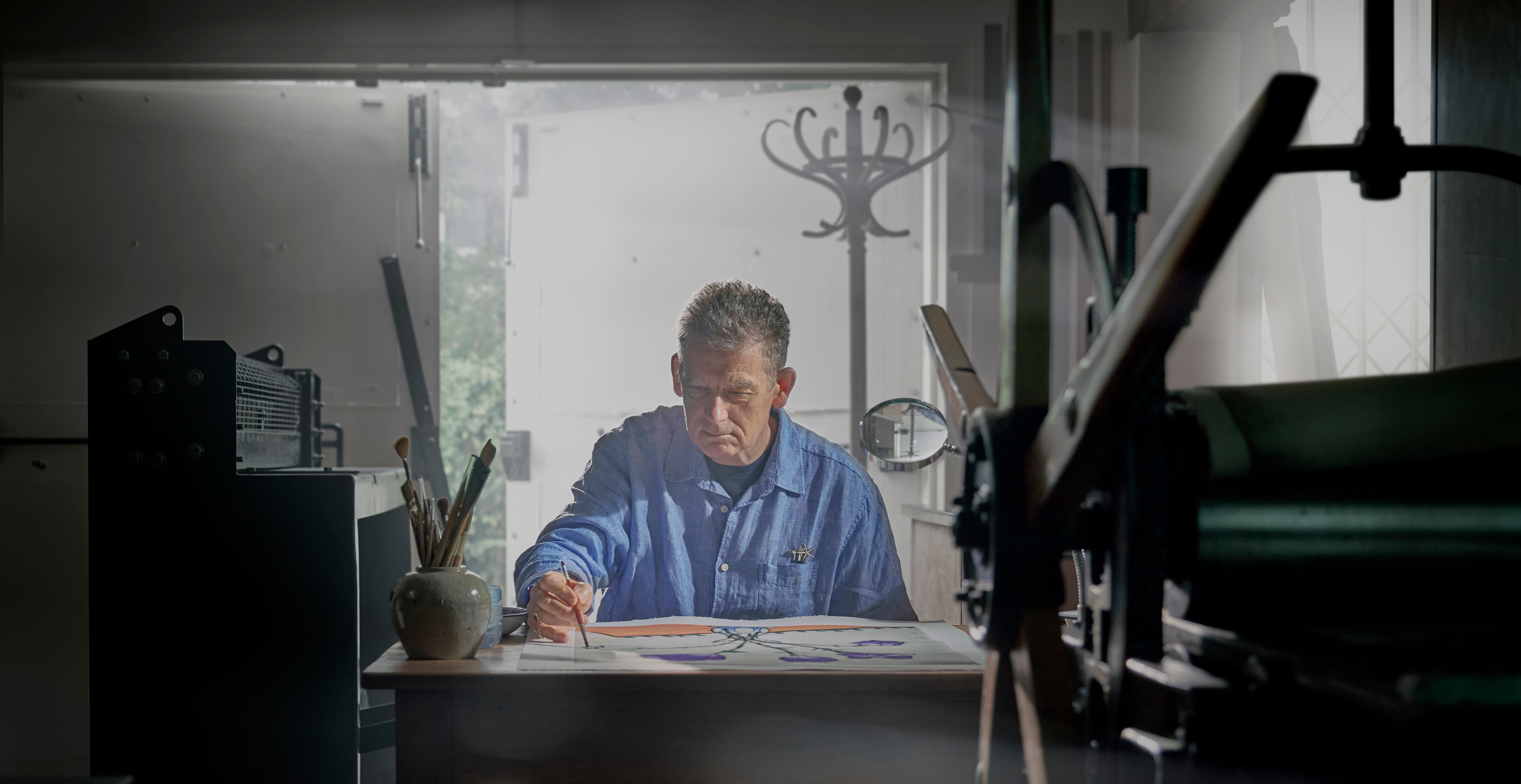 Biography
Richard studied painting at Maidstone College of Art (1971–74). He has continued to produce his own work ever since and has become intensely involved in printmaking.
A Master printmaker, Richard has editioned work for many contemporary artists, including David Hockney, Robert Ryman, Francesco Clemente, Donald Sultan and Keith Haring. In 1977 he worked with David Hockney as his assistant, setting up an etching studio for him. It was an interesting time as Richard was able to watch Hockney at work on his sets for the Glyndebourne 'Magic Flute'. In 1988 Richard spent several months in New York working with Jasper Johns, proofing and editioning complex carborundum prints.
Today, Richard concentrates solely on his own work, which derives from nature and travel. The garden he has designed at his studio in Charlton is a rich source of inspiration. Filled with hollyhocks, foxgloves, poppies and wisteria, it is a small haven for wildlife and has been a starting point for many of his prints. Richard's studio is a homage to the art of printmaking, with its lovingly-restored antique etching presses, housed in a converted Victorian coach house.
A frequent exhibitor at the Royal Academy Summer Exhibition and a twice invited exhibitor at the Discerning Eye exhibition at the Mall Galleries, Richard also regularly shows his work internationally.
Solo international shows include a series of annual exhibitions throughout Japan, spanning eleven years, which included Tokyo, Fukuoka, Osaka, Yokohama, Hiroshima, Matsuyama, Sendai, Sapporo, Kobe, Kyoto, Nagoya, Kagoshima, Kawagoe, and Nara. He has also had solo shows in Ballarat and Daylesford, Victoria, Australia. He has been Guest International Artist at the Toorak Village Art Affair, Melbourne.
In November 2017 Richard travelled once again to attend 28 solo shows of his work in cities across the whole of Japan, from Hokkaido in the north to the Pacific Islands in the south. This beautiful country, its art and traditions, continue to be an abiding influence on his work.
Solo shows in the UK include The Craft Centre & Design Gallery, Leeds City Art Gallery, Trevelyan College, University of Durham and The Burton Art Gallery, Bideford, Devon.
Notable mixed shows include The Art on paper Fair at the Royal College of Art and the Originals, Society of Wildlife Artists and Royal Society of British Artists Open exhibitions at the Mall Galleries.
Richard's work appears in many collections worldwide; public collections include: The Victoria & Albert Museum, British Library, Museum of London, Cartwright Hall Art Gallery, Royal Cornwall Museum, Trevelyan College, University of Durham, Aston University, Chelmsford Museum, Penlee House Museum and Gallery, Leeds Art Gallery, Maidstone Museum, Imperial Health Charity, Art in Healthcare, The Central and Regional Library of Berlin and Federation University Australia, Ballarat, Victoria.